Vocations
"Becoming a priest or a man or woman religious is not primarily our own decision.... Rather it is the response to a call and to a call of love." —Pope Francis, Address to Seminarians and Novices, July 6, 2013
Is God calling you?
God calls each of us to a vocation, the vocation to holiness. This vocation may look different for each person, but discovering it and living it out leads to our happiness and fulfillment.
Sometimes this concept is referred to as "the universal call to holiness," meaning that all people, everywhere, regardless of the vocation to which God calls them, are all called to be holy. It is in answering this call that we find joy.
What is a vocation?
A vocation is a call from God to share in His mission in the world. Everyone has a vocation. When considering their vocation, most people immediately think the word only refers to a call to the priesthood or the religious life, despite the fact that Holy Matrimony and the dedicated single life are also vocations.
Below is a list of some of the possible vocations that God might be asking you to consider
It is important that all of us learn to listen to the voice of God and seek to follow his will. Please join us as we pray for vocations, all of them. Let's ask God to keep our hearts open to whichever vocation he's calling us.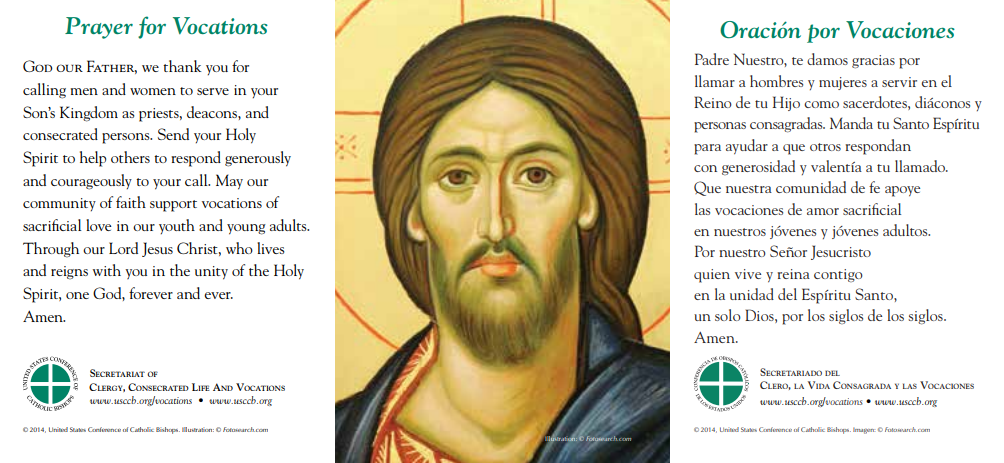 Department Contacts